tlhaq - A Klingon Watch Application for Palm OS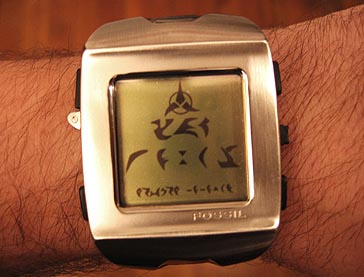 nuqneH!
tlhaq is a Palm OS application that is designed to run on a Fossil or Abacus WristPDA. This watch application will display the current time and date in the Klingon Alphabet ("pIqaD").

"tlhaq" is the Klingon word for "chronometer".

If you do not have a Fossil or Abacus WristPDA, then you should
a). Get one. They're really cool, or
b). Stop reading now. This application currently will not work on any other device. Future versions of this application may be released that will work on other kinds of devices, but for now, this is a watch application specifically written for WristPDA's.
INSTALLATION
If you do have a Fossil or Abacus WristPDA, then download the latest version of tlhaq here:
then simply install the .prc application using the supplied Palm Desktop software that came with your WristPDA and perform a Hotsync.
You can launch tlhaq by tapping its icon, as you would with any other application. The Rocker switch or the "Page Up" & "Page Down" buttons can be pressed up or down to switch between Klingon numerals and Roman numerals (in case you've not yet learned to read time in Klingon).
To enable tlhaq as your default Watch Mode application, launch the "Prefs" application and choose the "WristPDA" category from the upper-right drop-down menu. Next to "Watch App:", select "tlhaq" from the available choices.
If you choose "Watch" as the "Auto-Off Display Mode", then tlhaq will display the current time whenever your WristPDA goes into "Auto-Off" mode. As with other watch applications, the rocker switch and the "Page Up" and "Page Down" buttons can be used to switch between the different watch faces.
If you choose "Off" or "Current" as your "Auto-Off Display Mode", then tlhaq will display you the time when you press the rocker switch up or down.
Please consult your WristPDA manual for more information about using Watch Applications on your WristPDA device.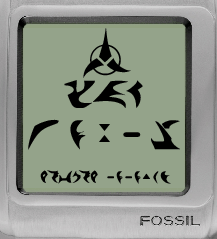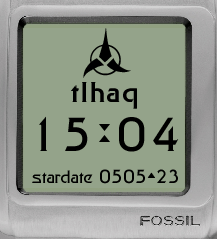 TIDBITS
Please note, that I have really only done a modicum of research on the Klingon language. I am not an expert. For instructions on how to pronounce Klingon words, such as "tlhaq" (chronometer) or "HovpoH" (stardate), please refer to the pronunciation guides at the Klingon Language Institute.
The watch only displays time in 24-hour format because that's the way Klingons tell time (apparently, however, the Klingon day starts at dawn, not at midnight, so it won't tell "true" Klingon time -- but since most of the users of this application are on planet Earth I thought that a watch that displays Earth time would be a bit more useful).
Also, I know that the "stardate" displayed at the bottom of the screen is not a "real" stardate, it's just the year, month and day written in decimal form. So it sort of looks like the stardates used in Star Trek, but has no actual correlation to the stardate numbering system (or lack thereof) used in the movies or TV shows.
FUTURE ENHANCEMENTS
More watch faces may be added in the future, including different fonts, graphics, and possibly an analog watch face or two.
DISTRIBUTION
tlhaq was written by Theodric Young and is considered "freeware". This software may be used, copied, and distributed at no charge. All other rights are reserved by Theodric Young.
THERE IS NO WARRANTY FOR THIS SOFTWARE, TO THE EXTENT PERMITTED BY APPLICABLE LAW. EXCEPT WHEN OTHERWISE STATED IN WRITING THE COPYRIGHT HOLDERS AND/OR OTHER PARTIES PROVIDE THE SOFTWARE "AS IS" WITHOUT WARRANTY OF ANY KIND, EITHER EXPRESSED OR IMPLIED, INCLUDING, BUT NOT LIMITED TO, THE IMPLIED WARRANTIES OF MERCHANTABILITY AND FITNESS FOR A PARTICULAR PURPOSE. THE ENTIRE RISK AS TO THE QUALITY AND PERFORMANCE OF THE SOFTWARE IS WITH YOU. SHOULD THE SOFTWARE PROVE DEFECTIVE, YOU ASSUME THE COST OF ALL NECESSARY SERVICING, REPAIR OR CORRECTION.
---
Contact: